September 16, 2012
I woke up at 6a.m. I didn't really want to be awake and knew I could fall back asleep but then I thought about Ohenewa leaving at 7a.m. and I wanted to see her one more time before she left.
I got up and looked around for Ohenewa, but I couldn't find her, just her bags were by the door. So I folded some laundry while I waited. Soon Darrel showed up since he was the one driving her. It was time to go so he loaded up her bags and shortly afterward she came walking up the path with Neda.
At the last minute I decided I wanted to go along and Neda did too. She we all rode into Burlington together. We had a few extra minutes so we stopped at Fred Meyer and Ohenewa bought some things to take on her journey home. This was Ohenewa and Neda's first health and fitness week, so they were recovering from being back in the "real world". I remember feeling that when I finished my first health and fitness week. At the retreat it's like a safe haven where there is only good healthy people and food. Then going out you see all the unhealthy people and all the unhealthy food, it can be a culture shock for a while.
At the shuttle we all said our goodbyes and promised to stay in touch. Darrel, Neda and I drove back to the retreat.
Breakfast:
During breakfast I ate a canary melon and wrote my blog while Doug started his intern class. It brought back memories of the classes in Costa Rica that I had to sit through and a part of me was really glad I was leaving. As smart as Doug is and he knows more than anyone I know about food and nutrition, I don't enjoy his teaching style.
I finished my blog and started packing up the car. I was feeling really happy and content about heading home. I was excited about the drive and looking forward to listening to my book on tape.
With the car loaded I said my goodbye's which took a while. I was sad to be leaving my dear friends but happy to be heading home.
One the road I listened to my book on tape during the drive. It is a great book called "The Story of Edgar Sawtell".
Lunch:
In Seattle I stopped in the international district and bought a very expensive durian. I ate the whole thing right outside the store. That was fun, I had a really friendly guy come by and talk to me about eating durian and I shared some with him.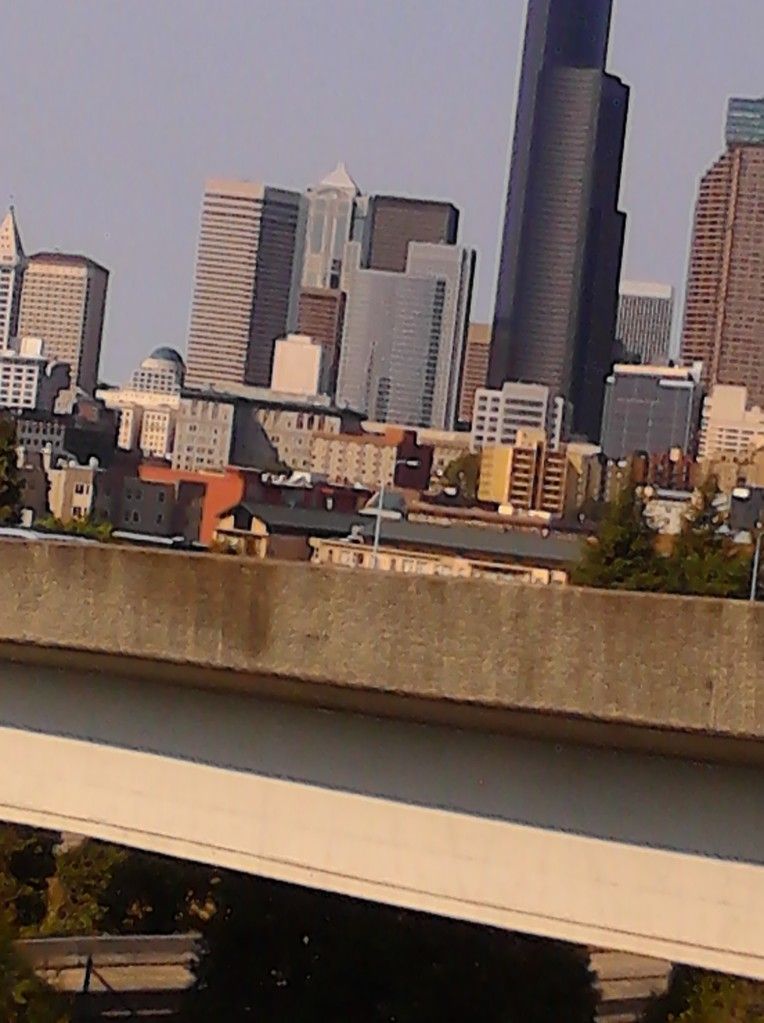 Then I was on the road again. I got lost getting into and out of Seattle, but finally made it back to the interstate and was on my way. I missed a junction at Ellensburg, I guess I was too busy enjoying my book, so I checked on my phone and was able to take a highway down to Richland where I would be staying the night with my aunt Trudy.
I finally made it to Trudy's house and it was great to see her and my uncle Jack. They have a really neat yard that they showed me around.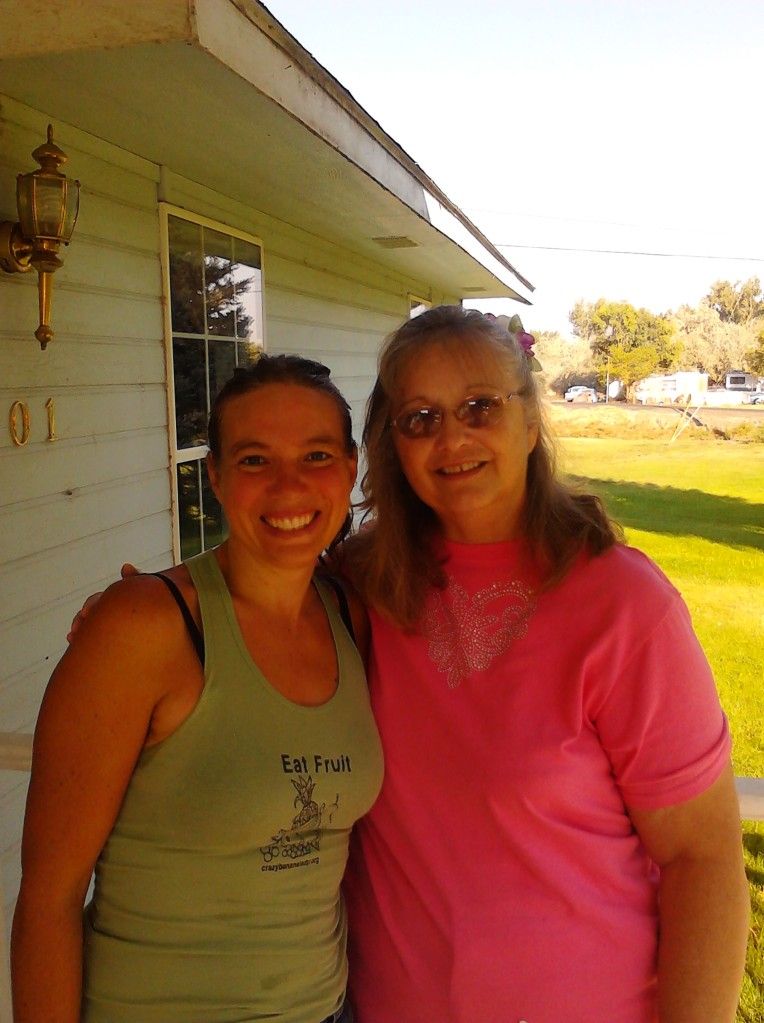 Snack:
They also had a pear tree with very ripe pears. I ate about three of those yummy's. Soon my aunt Jennifer and uncle ? showed up with 3 of my cousins. I have just started to get to know this side of my family so I am not good with the names yet. It is my biological dad's side of the family and he has 12 brothers and sisters. So there is a whole lot of relatives that I have to remember.
It has been fun getting to know the family though. They are all so happy and nice. I like being around happy and nice people.
They started to make dinner for everyone and I went in the kitchen to help Trudy. She wanted to know what she could make for me. I said to not worry about it, that I had all my own food. I had a bunch of oranges and banana's that I took with me when I left the retreat. I made up a 12 banana smoothie, then helped Trudy cut up veggies for everyone else's stir fry.
Dinner:
At dinner I drank most of my smoothie except for one big glass that I was too full to fit in. I really enjoyed dinner. The conversation was great and not one person said anything about what I was eating. It was so nice just being able to eat my food without having to explain where I get my protein, etc.
After dinner aunt Jennifer and her family went home. I talked to Trudy and Jack for a while. It was so fun talking with them, they are such light hearted, happy people.
I finally made it to bed around 10p.m. I read for a while and went to sleep.
September 17, 2012
I woke up at 4a.m. and finally made it back to sleep around 6a.m. I woke up again at 8a.m. I had wanted to leave by 9 their time which would be 10a.m. my time. I knew I wasn't going to make it, but I would try. I juiced all my oranges, 20 of them and blended up my leftover smoothie from last night with about 10 fresh bananas (I had my juicer and blender with me).
I put it all in jars and loaded up the car. It was 15 minutes until I wanted to leave and I really wanted to go on a run to get some circulation going before the drive. I also hadn't exercised at all the day before and I feel so much better when I exercise. So I put on my vibrams and ran along the canal bank for a mile. It was a great run and felt so good!
I was ready to head out. I said my goodbye's and was on the road again.
Breakfast:
The drive was pretty uneventful. I drank my OJ and listened to my book on tape. I stopped a couple times to pee and one time to get gas. I love stopping in Oregon to get gas because they fill up the tank for me. I wish they did that in Idaho, not that I drive in Idaho very much, only on occasion when I borrow Steve's car for travel.
About 30 miles from Boise I picked up TS from work and took him to Eagle to get his bike. I made it home just as my daughter Savana's school bus was pulling away. Perfect timing!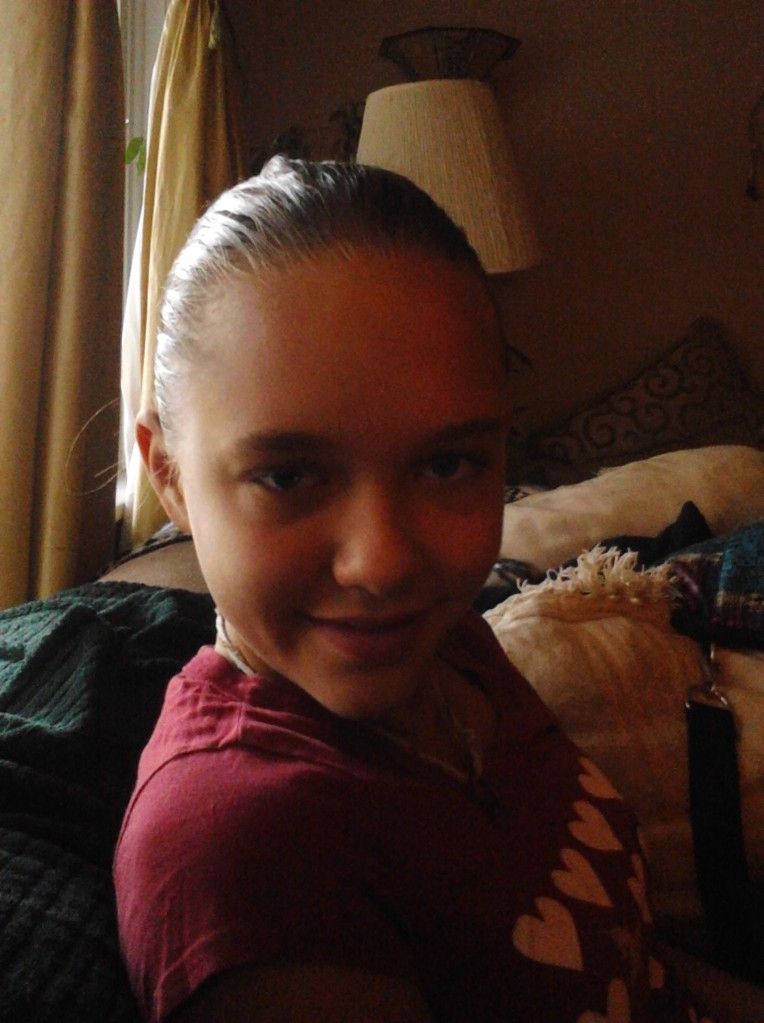 At home I jumped on the trampoline with Savana for a while. That was fun and felt really really good after sitting for 6 hours. My friends Jamie came by as well as TS. I drank my banana smoothie and took my anti-biotic that I had been avoiding taking. I guess we will see if it cures my infection, hopefully it doesn't make me sick.
I talked to Jamie for a while about projects and gardening. I am so grateful to have him as a friend, he is so creative and fun. He had also found a bunch of tile dumpster diving and we are going to tile my kitchen counters with it…woo hoo!
After Jamie left I talked to TS until it was time to leave. My house was a mess from my 18 year old being there alone while I was gone. I cleaned things up and made the kids dinner. Then I took my sons dog Freeda over to Jamie's and we took his dog with us to the river. I am working on training Freeda and she did pretty good until we got back and Jamie split off to go to his house with his dog, then Freeda flipped out, got out of her collar and ran to Jamie's. I went and got her, we had a stern talk and she was an angel the rest of the way home.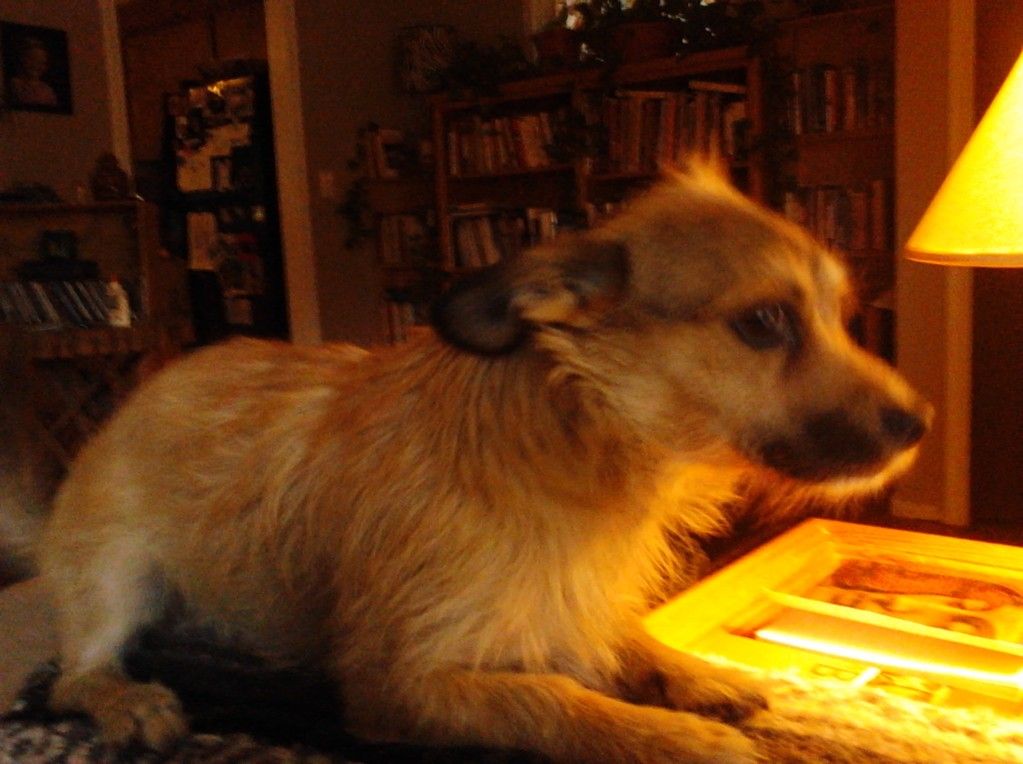 Back at home Savana and I got in the car and I drove to where I am house sitting for the week. On the way we stopped at her dad's to get her school bag and went to the co-op where I got a big salad from the salad bar.
We got to where I am house sitting. Played with the dogs and I ate my salad. We went to bed and read for a while and went to sleep around 10p.m.