September 13, 2012
I woke up at 6a.m. I hadn't slept good. My hips are really sore from sleeping on the floor. My body is not used to such a hard surface, though I do think it is good for it.
I wrote my blog and did laundry again in the morning.
Breakfast:
I ate a small amount of melon for breakfast. I can't seem to get myself motivated to eat much in the mornings. I'm just not hungry.
After breakfast Grant and I worked on our duet that we are singing for the talent show tomorrow night. Every year we have done a duet for the past 2 years, so we are trying to keep up the tradition. This year we are singing the "Elephant song" from Moulin Rouge. We are not that good, but it's all in fun.
Snack:
At 10a.m. I went to class to work out. I grabbed 6 dates and ate them before the work out started.
We started out speed walking. I was feeling really sore from yesterday. I got a little over excited about working out and did too much. The speed walking went ok. Despite being sore I was feeling strong. Once we were warmed up we did a sprint. I ran my hardest and by the end of it I knew I was spent. My energy was completely gone and my body was telling me to stop. Instead of listening to my body, I kept going with the group and was doing easy jogging but even that was becoming too much. I finally started walking and just focused on getting back to the retreat. Everyone was way ahead of me, but I knew there way no way I was going to catch up, before long they were gone and out of my sight. It took me a while and a couple of times where I had to rest but I finally made it back to the retreat.
I went straight to my room. I lied down on my mat on the floor but my hips hurt so bad that I couldn't get comfortable. There is a couch in the other room, I grabbed my blanket and lied down on the couch. I was instantly asleep. I slept for 3 and ½ hours…right through lunch. My body was so exhausted.
Lunch:
I got up and went out to the plum trees. I ate plums until I was full…so yummy.
The rest of the afternoon I did more laundry and talked with people in the lobby. I wasn't up for doing much of anything.
I was feeling sad thinking about the upcoming winter and how I was going to make it through. I am going to miss working in my beautiful garden and eating fresh tree ripened local fruit.
Dinner:
Fresh squeezed OJ blended with nectarines and blackberries. It was really yummy. I had three large mugs full. I also had a bowl of raw split pea soup that was peas blended with a bunch of herbs. It was good, but a little much for my sensitive tummy. I wished I would have stuck with just the OJ.
I went to bed early at around 8:30p.m. I made up a bed on the couch because I couldn't sleep on the floor for another night. I read for a while and went to sleep around 10p.m.
September 14, 2012
Woke up at 6a.m. I was hopeing that my body would not be as sore, but unfortunately it still hurt to move. I was frustrated that I had pushed my body so hard working out after being sick. Moderation!!! I need to learn moderation!!! That will be a great thing for me to practice.
I got up and did my usual blog and laundry. There was a lot more laundry today since everyone is wanting to get their laundry done on the last day.
Breakfast:
I had one and half canary melons for breakfast. They were really sweet and delicious. I would have eaten more, but I still wasn't that hungry.
After breakfast I found Grant and we practiced our song some more. It was our final practice time since we wouldn't have any more time the rest of the day. The singing cheered me up some and got my mind in a happier place. Yay for singing!
I wasn't about to go to work out class today. So I did more laundry, swept and cleaned the place up a little and wrote more of my blog. When I was done writing, I went out and watched the other work out classes. That was a lot of fun. Right before lunch Doug set up a power obstacle course and only the fittest participated in it. It was so incredible to watch and I got some great pictures.
Lunch:
Coconut water, banana lettuce smoothie. Lunch was outside on the patio picnic style. The lunch conversation seemed to be about Monsanto and the governement, etc. I really didn't want to talk or put my energy in to thinking about negative things. I didn't stick around long.
I decided to get a few steps ahead on all the laundry I would have to do the next day when everyone left and I would have to strip all the bedding and get the rooms ready for the next event, which is a fasting event. So those that weren't changing beds or rooms I stripped and washed their bedding so they would have fresh sheets and towels for the week. That took up the rest of the afternoon.
At 5p.m. we had closing circle. I always enjoy the closing circle, where we all form a big circle and each of us take a turn lying on a mat in the middle of the circle and everyone says one word about the person in the middle. Grant writes all the words down and sends them to us in an e-mail. Since I've been to a lot of Doug's events, I've been to a lot of closing circles. I haven't looked over the e-mails I've saved with all my words in a while. I think that would be a fun thing to do.
After closing circle we had a very late dinner. It didn't even start until close to 8p.m. I was feeling really tired and worn down. Plus someone had perfume on and it was giving me a slight headache. I was thinking that I wouldn't be able to stay awake enough to do the talent show. I talked to Grant and said I wasn't sure if I could do it and he said that would be fine.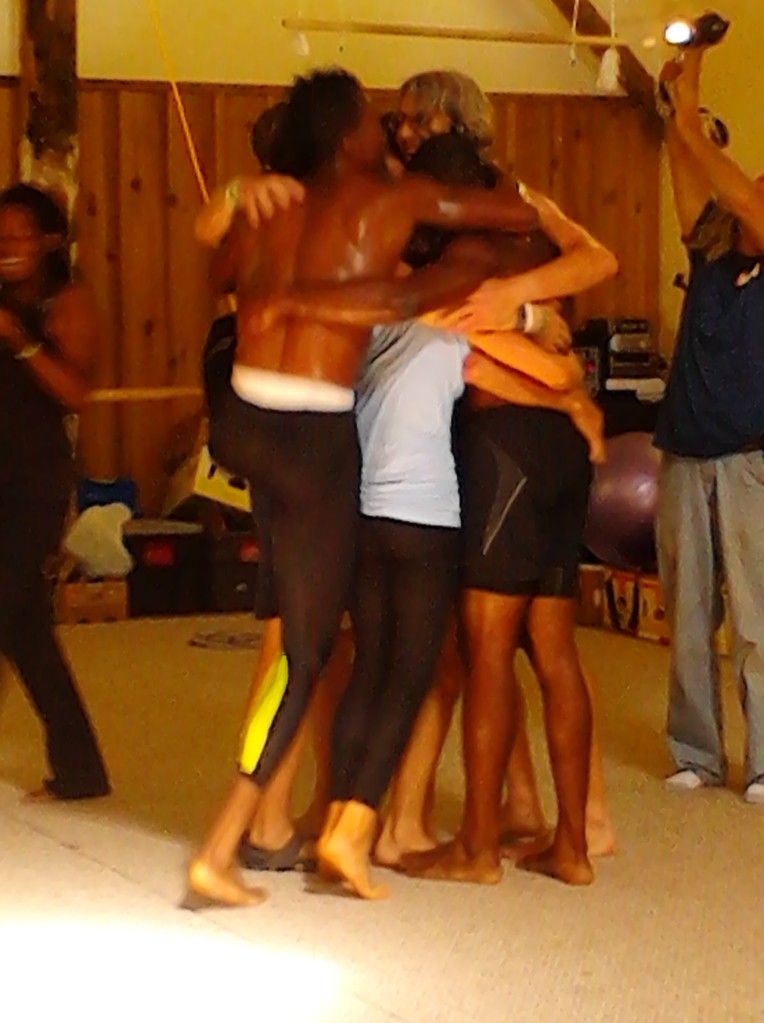 Dinner:
I drank a bunch of OJ/blackberry juice and went and lied down in the activity room. I lied there for about a half hour and started to feel better. The calories from the juice seemed to give me a second wind. I came back to the dining room and ate a bunch of salad. Everyone was very silly and happy. It was fun being in that energy.
Finally at around 10:30p.m. the talent show started. Grand and I sand first and we messed it up as usual…lol. It was fun though. It was a fun talent show and pretty short which was good.
I finally made it to bed around midnight.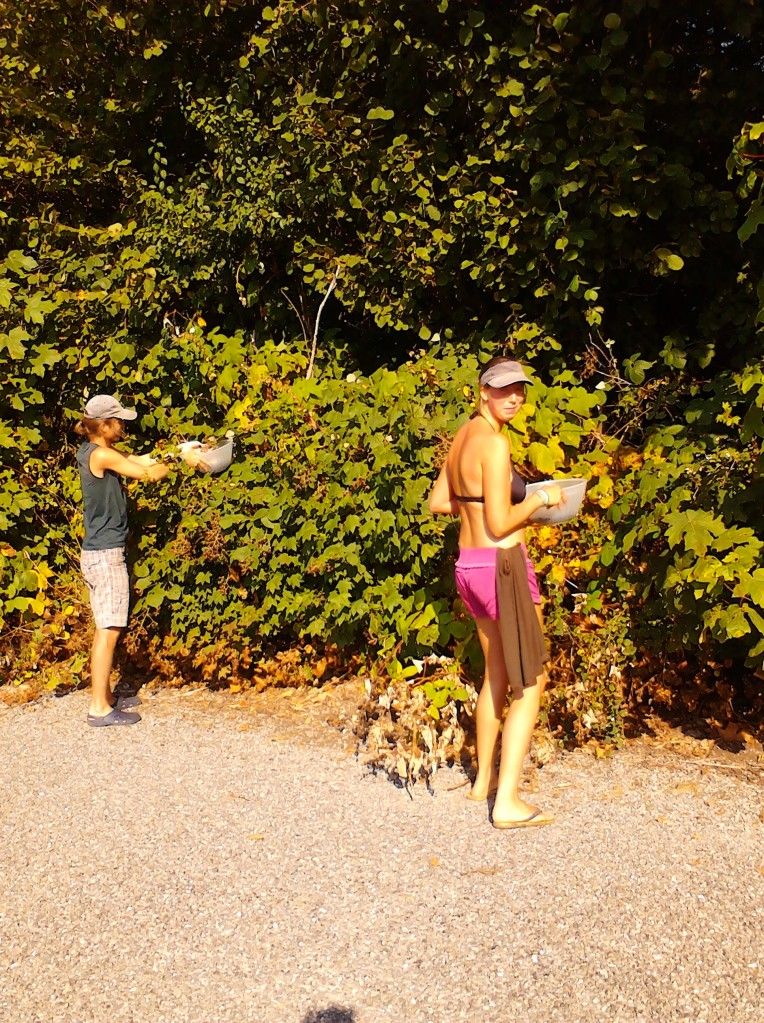 September 15, 2012
I slept in until 7a.m. Woohoo! I got up and right away started doing laundry. There were a lot of people that were packed up and ready to leave so I got to those rooms first.
Breakfast:
I took a small break to eat one and half canary melons. Then I was right back at work. I worked like crazy through the morning. I needed to get all the beds ready in time for the fasters that were going to start showing up at noon. I wanted to make sure I got to those rooms first. I went and asked Grant if the room assignments weren't done yet, they weren't but Doug said we could do them whenever. I grabbed a piece of paper and said lets do it! Once the room assignments were done I went right back to work.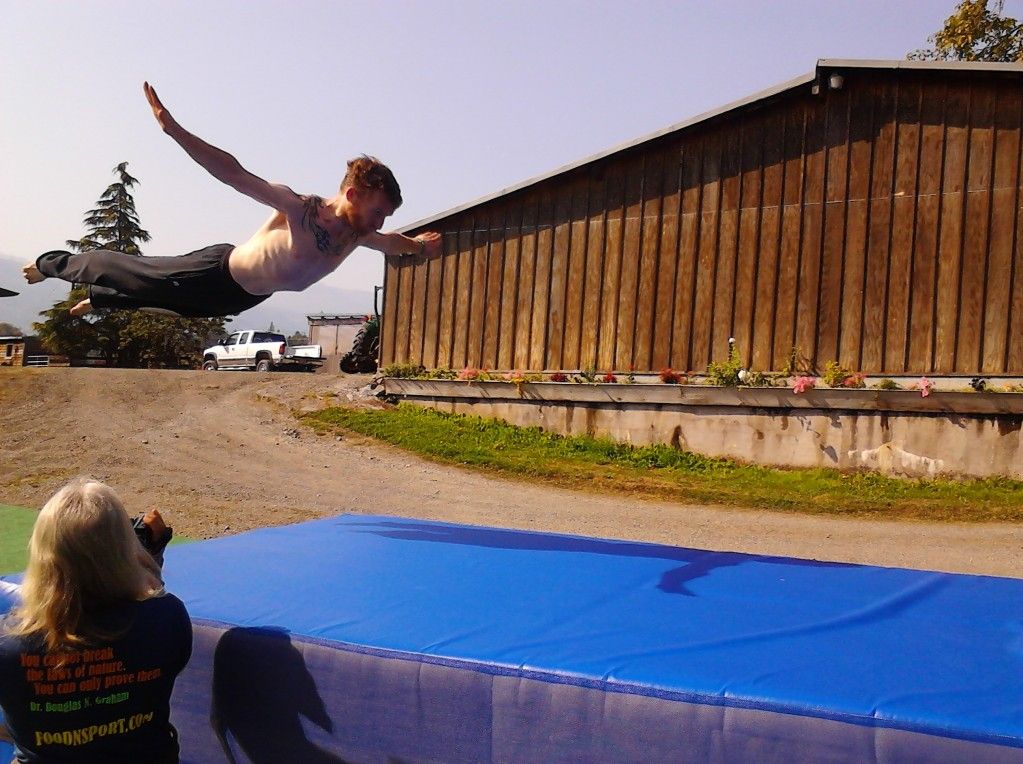 There were supposed to be a couple of people that the retreat hired to help me clean the rooms but they didn't show up until 11p.m. I put them to work vacuuming and cleaning the bathroom while I continued with getting all the beds ready.
Lunch:
I managed to eat a few dates and a couple of apples for lunch. Then I was right back at work. I went full speed until around 2p.m. Meeting the fasters when they arrived and showing them to their room. When all that was left to do was wait on laundry, I found Doug and talked to him about an infection I've been fighting for almost a year. I wanted his advice on whether I should take the anti-biotics or not.
He said to find Grant and have him look up what the medication would do to my body. I found Grant up in his room. We both did a bunch of research on-line and discussed what would be the wisest decision. The side effects from the medication could be severe but most likely not too bad for me since I'm in such good health. Basically would it be easier for my body to continue to fight the infection on it's own or would it be easier for my body to recover from the medication and get it's good bacteria back.
I was tired and lied down on Doug's bed and fell asleep for about 15 minutes. Doug came into the room and I woke up. We all continued our discussion and Doug said the wisest choice in his opinion would be to take the anti-biotic and recover from that.
I felt much better having made a decision and am looking forward to moving ahead. I know my body will be much stronger once this infection is gone.
I got up and went straight back to work. I had a few breaks waiting on laundry and during those breaks I called my mom and each of my kids. During another break I watched Doug working with Laura Dawn on the trampoline teaching her how to do a back flip. I learned a lot just watching. The human body is so amazing!
Dinner:
I was so hungry at dinner time. I drank a whole lot of OJ/nectarine juice. I drank so much that I was too full to eat anything else. I ate a tomato slice and a little bit of lettuce, but that was about all I could get down.
Once dinner was over I did more laundry and talked to people. We had a meeting where we introduced ourselves to the fasters and they told a little of why they came to fast.
I finally made it to bed around 11p.m.