By: Daniel Nardini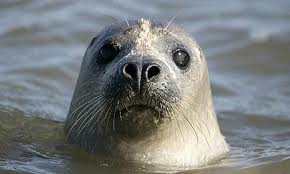 Denmark's leading store chain Magasin will no longer be selling seal skin clothes or seal skin products. The decision was made due to the extreme barbarity of how the Canadian seal hunters kill the harp seals and also due to the cruel conditions seals are treated in Canada and other parts of the world. This part of the decision should be applauded. It is high time that such animal cruelty should be seen as unacceptable and that such commercial harvesting of seals from such acts of cruelty should never be allowed. Besides, Magasin can use cow and deer leather as well for leather products. Animals raised on such farms are killed humanely, and none of these animals are in any danger of extinction (unlike the harp seal). And when Magasin bans the importation and selling of some product, the chances are other big chain stores not only in Denmark but elsewhere in the European Union will do the same.
However, for everything there is an exception. In the case of the seal skin trade, a big exception. Not everyone hunts the seals and other furry animals for mere sport and for commercial gain. The Inuit of Greenland, like so many migratory native hunters, depend on what they catch and kill for food and trade. Unlike the Canadian harp seal hunters, who use clubs, the Inuit use rifles to kill their prey quickly. They waste nothing from the kill, and the seal pelts are used for trade to help the Inuit buy whatever they need (another name for the Inuit is Eskimo—the name is primarily used for those migratory hunters in Alaska). This is something the Inuit have been doing for centuries, and continue to do. Sadly, under this blanket ban by Magasin, their seal pelts will no longer be bought and sold either.
This will be a disaster for the Greenland Inuit. Greenland is still a colony of Denmark, and the Inuit have extremely limited resources and means to make a living and stay alive in the environment they inhabit. Asking them to do something else like farming or do menial work in the towns and cities is not really possible—the island has virtually no towns to speak of, and farming is impossible in the climate they live in. If Magasin no longer buys the Greenland Inuit's seal pelts and products, then this one chain store company will disrupt a decades old pattern of trade that has benefit these native people's way of life. Magasin's policy is too restrictive and too much of a blanket approach. I hope that Magasin will reconsider part of the policy to help the Greenland Inuit and help them preserve their way of life.
====
some of it is reasonable, but all the stuff about killing the inuit way of life is fallacious for the following reason:
1. it is an appeal to pity fallacy
2. there is also an appeal to tradition fallacy
3. the idea that this is the inuit way of life is incorrect. the inuits didn't go around slaughtering seals so they could sell the stolen-by-the-hand-of-tyranny items to first world commerce - because there was no first world commerce way back when! if one is going to play the genetic fallacy, at least, it should be done correctly! :D
so that doesn't leave much of substance at all. the real reason magasin is dropping seal isn't because of the barbarity (though it is likely at least some of the head honchos do have a conscience of some sort). the real reason is most likely because they've figured out that the EU ban is going to make selling seal corpse products difficult and they won't make money ... not to mention also get the black mark of disapproval from many of their customers.
well that's fine - capitalism can work in your favor if you know how to play the game. :D
in friendship,
prad