Video articles with English subtitles:
The Vegan Trend Takes Over
Prime-time TV in Israel

How the unprecedented vegan trend in Israel reaches prime-time television, all due to Gary Yourofsky's riveting speech, with an extensive 10 minute news item on Israel's most watched network!

This was the main story on the weekend edition of Channel 2 news (July 14th, 2012).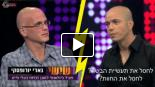 Gary Yourofsky's appearance on Israeli weekend Talk Show, "Friday with Tal Berman" (September 14th, 2012).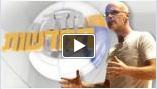 Hot Darom TV news report of Gary Yourofsky's lecture at Ben Gurion university in front of a packed house of 450 people (September 11th 2012, Beersheba).

Israel's most renowned international singer, Achinoam Nini (aka Noa), revealing how the speech "rattled the foundations of her soul" and inspired her to gradually go vegan.

Extended profile in Haaretz magazine, the most reputable weekend magazine in Israel – August 3rd 2012:

Stories in Time Out Tel-Aviv, the biggest local newspaper of Tel Aviv – June 14th 2012, July 5th 2012:
Major article in the most popular newspaper in Israel, 7 Days – the weekend supplement of Yedioth Achronot – June 29th 2012:

Cover story in Time Out Tel-Aviv, the biggest local newspaper of Tel Aviv – December 1st 2011:

Back Cover story in Calcalist, one of the two leading financial newspapers in Israel – February 15 2012:

Stories in Zman Jerusalem and Zman Tel-Aviv, major local newspapers in Israel – September 14 2012:

Other newspapers: